1 in 25 workers are injured in the Food and Beverage manufacturing.  This is one of the highest in the industry.
So what can you do to improve this and keep employees safe.  Here is some guidance and resources.
–> View the Full article by Chris Brogli of Rockwell Automation
To begin, don't view safety as a checklist requirement. Make it a companywide mindset and holistic approach that addresses the three Cs: culture (behavior of your company and workers), compliance (formal procedures and processes) and capital (investments in technology).
The Functional Safety Life Cycle (PDF) should be used as a guide for systematically assessing and mitigating machinery risks.
What is the Safety Life Cycle?
The Safety Life Cycle helps maximize productivity and improve safety by identifying the steps required to assess and mitigate machinery risks. The steps of the Safety Life Cycle include:
Perform a hazard or risk assessment Identify hazards and estimate the associated risk.
Determine the functional safety system requirementsEvaluate safeguarding options based on industry acceptable solutions and select mitigation techniques.
Design and Verify the systemDesign system architecture, document safety circuit design, procure materials.
Install and Validate the systemVerify systems are operating within de ned parameters and applicable standards have been satis ed.
Maintain and Improve the systemVerify that system requirements operate within speci ed parameter
for production and safety preventative maintenance and system upgrades.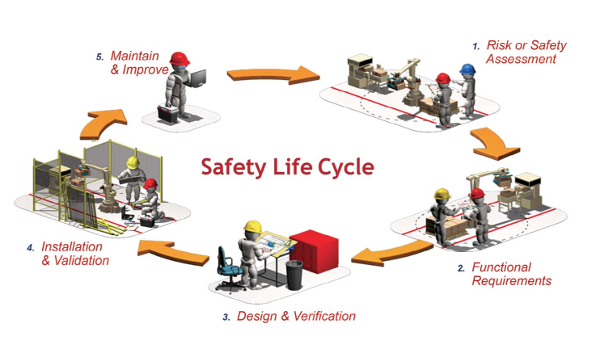 Tools & Technologies:
Safety Automation Builder software can help you apply best practices and achieve the required safety performance level as you navigate the safety system design process.
Pre-engineered Safety Functions design documents also can help ease the design process with a building block approach to incorporating common safety functions.